About Us
Players Oath
On behalf of all my fellow masters players, officials and supporters:
I agree to abide by the masters code of conduct, rules and regulations.
I pledge, at all times, to show sportsmanship, respect and goodwill toward our fellow masters, and during our tournament, whether playing games or socialising at functions.
I will always participate within the spirit of masters, and remember:
We do not stop playing because we grow old, we grow old because we stop playing!
Author: M Duncan, CEO/Secretary, MRL Australia.Inc.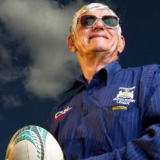 A Message from the late Phil Campbell
Founder of Masters of Rugby League NZ Inc.
I am writing this message to give you an insight into how we are promoting and developing rugby league through the Masters of Rugby League and we are bringing back families, fun and goodwill to our game. With every game in Masters of Rugby League ending in a draw no matter how many tries are scored, the emphasis is on skills and not points.
The conception of the Masters is based on four age groups:
35-39 white shorts, 40-49 black shorts, 50-59 red shorts, 60 plus gold shorts with tags. The games are played 25 minutes each way and are played with modified rules to ensure there are no serious injuries. The games are played in great spirit and the emphasis is on enjoyment and camaraderie.
One of the most rewarding things to come out of this concept is watching the large number of supporting families that turn up to watch fathers, grandfathers, brothers, uncles etc take part and the number of teenagers and young people that form a new level of respect for the older footballer. That can only be a positive thing in today's social climate.
We are convinced by the amount of positive feedback we are receiving from players and supporters alike that we are doing something that is being embraced by the rugby league community as a good thing and a pleasure to be involved with. We have noticed that ex-league players that have been playing golden oldies rugby, or retired from playing, on hearing about Masters are starting to return to our game. Which, as you are aware, is a great asset for our clubs, as they offer experience and expertise and bring a wealth of knowledge back to the game in the form of coaching and/or administration.
The other positive is to bring another source of revenue back to league clubs with extra games they didn't expect as our modules are played once every three weeks.